John Drinkwater
1882-1937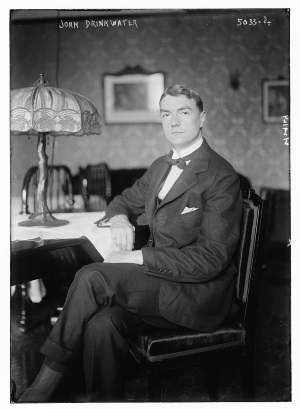 John Drinkwater was born in Leytonstone, Essex and grew up in Oxfordshire. He was the son of a schoolmaster who later became an actor. He left school at the age of 15 to work for an insurance company but left to follow his calling as a poet. His first published work was The Death of Leander and over the next few years he produced Lyrical and Other Poems (1908), Poems of Men and Hours (1911) and Swords and Ploughshares (1915), a collection of war poems written from a civilian point of view. Before the First World War he was a member of a group of poets who lived near or met in the village of Dymock in Gloucestershire. The group, whose number included Robert Frost, Edward Thomas and Rupert Brooke, published a literary journal, New Numbers.
Drinkwater also wrote literary criticism and several plays, his first, Abraham Lincoln achieving success on both sides of the Atlantic. Having become the first manager of the Birmingham Repertory Theatre, he also wrote plays on Mary Stuart (1921) and Robert Burns (1925). His last collection of poetry, Summer Harvest, was published in 1933.
He was married to Daisy Kennedy, an Australian violinist whose first husband was the celebrated Ukranian pianist, Benno Moiseivitsch. John Drinkwater died in London in 1937, aged 57, and is buried in Piddington, Oxfordshire.
Works include
The Crowning of Dreaming John of Grafton
Nineteen Fifteen
Moonlit Apples
The Vagabond
Sunrise on Rydal Water
Books you might enjoy