Charlotte Brontë
1816-1855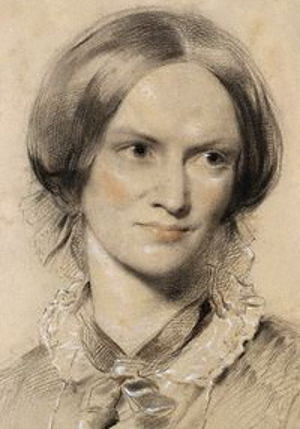 Charlotte Brontë was born at Thornton, near Bradford in 1816, the daughter of a clergyman. She was one of six children and grew up in the nearby village of Haworth. Charlotte's mother died when she was five and the family were educated by their mother's sister, Elizabeth Branwell, who moved into the parsonage to look after them. At the age of eight she and her younger sister Emily joined their elder sisters as boarders at the Clergy Daughters' School at Cowan Bridge in Lancashire. This was a poorly run establishment and the harsh conditions there may have contributed to the death of her two elder sisters from tuberculosis in 1825. Their death now left Charlotte as the guide and teacher to her two younger sisters, Emily and Anne.
At the age of 15 Charlotte continued her education at Roe Head in Mirfield and the following year she wrote a novella, The Green Dwarf. In 1835 she returned to Roe Head as a teacher but appears to have been lonely and unhappy there and sought consolation in writing poetry. In 1836 she wrote to Robert Southey, the Poet Laureate, for advice but was rebuffed by his ungracious response, stating that it was not a profession for women. In 1839 she took a job as a governess but did not enjoy the experience. In 1842 she moved with her sister Emily to Brussels to teach English at a boarding school, Emily teaching music. Here she developed a strong attraction for the married headmaster judging from some letters published after her death. She and Emily were forced to return home on the death of her aunt.
In 1846 the three sisters self-financed the publication of a joint collection of poems, using pseudonyms. They then started to write novels, Charlotte's Jane Eyre being published in 1847. This was well received and she illustrated the second edition herself. The following year tragedy again struch the family with the death of her somewhat dissolute brother, Branwell, and her sister Emily, followed by the death of Anne in 1849. After their death she wrote the novels Shirley and Villette, although neither of these achieved the same level of success as Jane Eyre.
In 1854 she married her father's curate, Arthur Bell Nicholls, contrary to her father's wishes, but he marriage was short-lived as she died with her unborn child the following year, aged 38. She is remembered in a biography written by her friend, Elizabeth Gaskell, published in 1857.
Works include
On the Death of Anne Brontë
The Missionary
Books you might enjoy