Francis Beaumont
1586-1616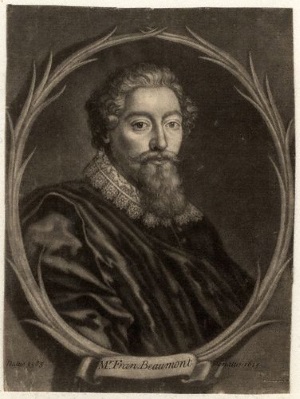 Francis Beaumont was born in 1584, the son of a judge, Sir Francis Beaumont of Grace Dieu in north-east Leicestershire, and the younger brother of the poet Sir John Beaumont. He attended Broadgates Hall, now Pembroke College, Oxford, at the age of thirteen but left without taking a degree after his father died in 1598. Two years later he entered the Inner Temple to train as a lawyer but poetry had a greater attraction for him and he did not stay long in this field, becoming a student of the playwright Ben Jonson.
His first public work was the poem Salmacis and Hermaphroditus, an expansion of an Ovidian legend, published in 1602. In 1605 he wrote commentary verses to Jonson's Volpone. In 1607 he began a famous collaboration with John Fletcher. Between them they wrote at least ten tragedies and comedies including Cupid's Revenge, The Maid's Tragedy, and The Captain, thus feeding the insatiable appetite of the theatre-going public at a time when this was the main source of entertainment. In 1609 they replaced Shakespeare as the chief dramatist of the acting troupe The King's Men. Beaumont also wrote The Knight of the Burning Pestle himself and The Masque of the Inner Temple and Gray's Inn, which was performed in 1613.
He got married in 1613 to Ursula Isley, an heiress, and they had two daughters, after which he effectively retired. He had a stroke in 1613 and died of a fever in 1616. He was one of the most celebrated and successful poets and dramatists of the age but is now remembered chiefly for his and Fletcher's plays. He is buried in Westminster Abbey.
Works include
Books you might enjoy

The Maid's Tragedy (Revels Plays)
Francis Beaumont, John Fletcher, T.W. Craik (Editor)