Edmund Spenser
1552-1599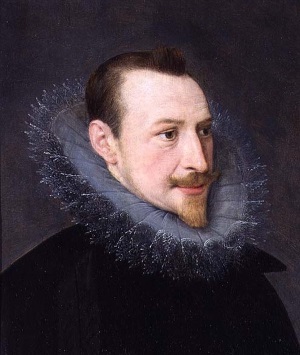 Edmund Spenser was born in London and was educated at Merchant Taylors' School and at Pembroke Hall, Cambridge.
In 1578 he obtained a position in the Earl of Leicester's household where he came into contact with Sir Philip Sidney and Edward Dyer through a literary circle. In 1580 he became secretary to the Lord Deputy of Ireland, and settled in Kilcolman Castle in Cork, which was later destroyed in the Tyrone uprising of 1598.
In 1579 he published The Shepheardes Calendar, dedicated to Sidney and in 1590 the first three books of his masterpiece, The Fairie Queen, a chivalric romance written in his own newly invented metre, now known as the Spenserian stanza.
Spenser died in straitened circumstances in 1599 and was buried in Westminster Abbey with much ceremony. His collected works were first published in 1611. Over the centuries his work has been much studied and discussed but whatever the view of critics, there is no doubt that he was one of the foremost poets of his epoch.
Works include
Books you might enjoy

Edmund Spenser's Poetry
Edmund Spenser, Hugh Maclean (Editor), Anne Lake Prescott (Editor)