Charles Sorley
1895–1915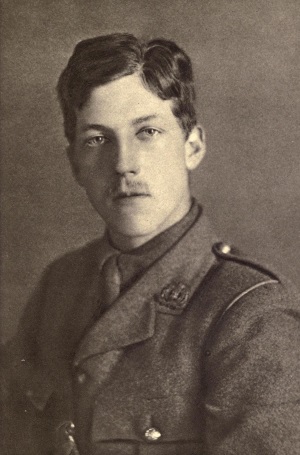 Charles Hamilton Sorley was born in Aberdeen, Scotland, the son of a philosopher and university professor. The family moved to Cambridge when Charles was five and he was educated at King's College School, Cambridge and at Marlborough College, where he started to write poetry. He won a scholarship to University College, Oxford and prior to taking up his place spent six months in Germany studying the language, some of this at the University of Jena.
He was forced to leave Germany at the outbreak of World War I and on his return, instead of going to university, enlisted in the army. After a few months' training he arrived in France in May 1915 and was promoted from lieutenant to captain three months later. He was killed in October 1915 at the Battle of Loos. His final poem, "When You See Millions of the Mouthless Dead", was discovered in his kitbag after his death.
In 1916 a collection of 38 of his poems, Marlborough and other poems was published posthumously with great success and his Collected Letters, edited by his parents, in 1919. A collection of his poems was also republished in 1985.
Charles Sorley is one of the 16 Great War poets commemorated on a slate stone in Poets' Corner, Westminster Abbey. His most powerful poems include To Germany, Barbury Camp, "All the Hills and Vales Along", Such, Such is Death, The Song of the Ungirt Runners and Expectans Expectavi.
Works include
Books you might enjoy