Percy Bysshe Shelley
1792-1822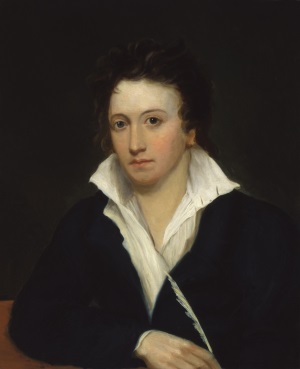 Percy Bysshe Shelley was born in Horsham, Sussex, the son of a Whig landowner. He was educated at Eton and Oxford, from which he was sent down in 1811 for writing a pamphlet on atheism. This, together with his elopement with and marriage to the sixteen year-old Harriet Westbrook in the same year, caused an irreparable breach with his family.
Shelley later abandoned Harriet for Mary Wollstonecraft, whom he married after Harriet's suicide. Shelley's latter years were spent in the company of other literary and political exiles in Italy, where he enjoyed a greater freedom to express his revolutionary ideas. He drowned at sea in the Bay of Spezia.
Shelley is without doubt one of the great Romantic poets who, in spite of his turbulent and colourful life, produced works which are full of passion, creative energy, and lyrical beauty.
Works include
Books you might enjoy

The Complete Poems of Shelley (Modern Library)
Percy Bysshe Shelley