Alfred Noyes
1880-1958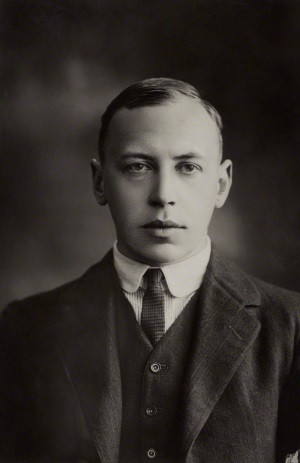 Alfred Noyes was born in Wolverhampton and grew up in Wales when his father got a teaching job in Aberystwyth. He went to Exeter College, Oxford at the age of 18 but left without a degree. He published his first collection of poems, The Loom Years, in 1902 and over the next ten years published five further volumes of poetry which included his most famous poem, The Highwayman, written when he was 24 years old, and Drake, a long epic in blank verse.
In 1907 he married Garnett Daniels, the daughter of an American diplomat. In 1913 he visited the United States on a lecture tour and after a similar trip the following year accepted a visiting professorship at Princeton University to teach English literature. He held this post until1923, dividing his time between England and the US while continuing to write.
During World War I, declared unfit for military service because of poor eyesight, he worked in the Foreign Office where John Buchan was a colleague. In 1926 his wife died in France when they were visiting friends and the following year he married Mary Angela, the widow of an officer killed in World War I. Later that year he converted to her religion, Catholicism. In 1929 they moved to the Isle of Wight and had three children. During World War II he lived in the US and Canada supporting the Allied war effort with patriotic writings, returning to the Isle of Wight in 1949. He died there in 1958. His autobiography, Two Worlds for Memory, reflect his experiences on both sides of the Atlantic.
In addition to a considerable amount of poetry, Alfred Noyes wrote short stories, essays, several novels, a biography of William Morris, and one full length play.
Works include
Books you might enjoy