John Masefield
1878-1967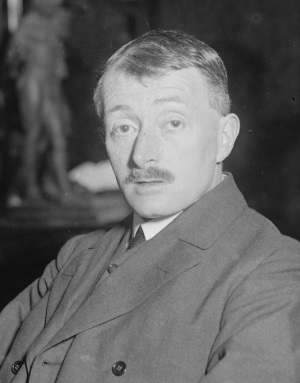 John Masefield was born in Ledbury, Herefordshire, the son of a solicitor. His mother died in childbirth and he went to live with his aunt. His father died soon afterwards. He was educated at the King's School, Warwick (now Warwick School) as a boarder but left at the age of 13 to go to sea. He sailed on HMS Conway for three years, later on the Gilcruix to Chile, and on a windjammer to New York. He jumped ship in New York and drifted between jobs before taking a job in a New York bar and later in a carpet factory, described in his autobiography, In The Mill (1941).
He had been an avid reader since childhood and whilst in New York devoured books by modern and classical authors and poets in his little free time. He returned to England at the age of 19 and worked for a time as a journalist. A few years later he married Constance de la Cherois Crommelin, a teacher who was at least ten years his senior. The couple had two children.
In 1902 his first collection of verse, Salt Water Ballads, was published. This included two of his most famous poems, Sea Fever, and Cargoes. He then wrote two novels and in 1911 The Everlasting Mercy, a narrative poem written in a colloquial, revolutionary style. Although exempt from military service because of his age, during World War I he worked in France as a hospital orderly. During the war he also gave lectures in the United States and was awarded honorary doctorates by both Harvard and Yale, receiving a similar honour from Oxford in 1921. In 1923 he published Collected Poems and between then and World War II wrote several novels and a religious play. In 1930 he was appointed Poet Laureate, a post he held until his death in 1967, his wife having predeceased him.
John Masefield's early poetry reflects his love of the sea and his later poetry his love of the English countryside.
Works include
Cargoes
The Everlasting Mercy
Books you might enjoy
Selected Poems
John Masefield