Oliver Goldsmith
1728-1774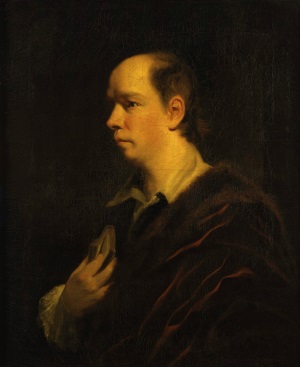 Oliver Goldsmith came from a large family and was the son of a farmer and Irish clergyman. He was born either at Pallas, near Ballymahon in County Longford, Ireland where his father was the Anglican curate or at the home of his maternal grandparents near Elphin in County Roscommon where his grandfather was a clergyman and master of the local school where Oliver later studied.
In 1774 he entered Trinity College Dublin to study theology and law but was expelled for his part in a riot when a group of students tried to storm Marshalsea Prison in London in 1747. In spite of this he was allowed to graduate with a BA in 1949 but without a distinction which would have enabled him to follow a profession in the court or in law. After living at home with his mother, he tried various professions without success before studying medicine half-heartedly at Edinburgh University between 1752 and 1755. He then undertook a walking tour of Europe, busking with his flute to survive.
On his return he settled in London, where he worked in a number of casual jobs but also as a freelance journalist on Grub Street, rising from relative obscurity to mix with the intellectual elite of London and becoming one of the nine founder members of The Club along with Samuel Johnson, Edmund Burke, and Joshua Reynolds. One of his aristocratic contacts arranged a teaching job for him at Thornhill Grammar School and in 1758 he published a biography of the Huguenot Jean Marteilhe using a false name.
The 1760s and early 1770s were his most productive years as a poet and playwright and he wrote a series of letters entitled The Citizen of the World in 1760, Letters from a Chinese Philosopher in 1762, and The Hermit, a romantic ballad, in 1765. He wrote the well known novel The Vicar of Wakefield in 1766, followed by two plays, The Good-Natured Man (1768) and the frequently-performed She Stoops to Conquer (1771). He also wrote the poem The Deserted Village and other poetry for which he is less known. His works are still popular today for their lively, graceful, readable style and their gentle humour. As a person he was disorganised, impetuous, somewhat reckless with money but a genial, entertaining companion. He died of kidney disease in 1774 at the age of 45. Monuments to him exist in Ballymahon in Ireland and Westminster Abbey.
Works include
Books you might enjoy

The Life of Oliver Goldsmith
Washington Irving