George Eliot
1819-1880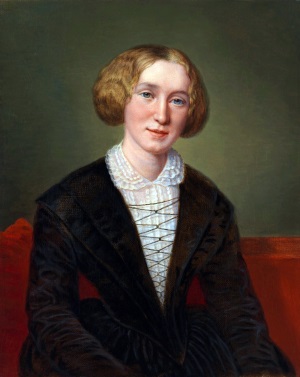 George Eliot was the pseudonym oh Mary Anne Evans, who was born in Arbury, Warwickshire where her father was a land agent. She was educated at schools in Nuneaton and Coventry and moved with her family to a suburb of Coventry on her father's retirement.
Here she came under the influence of Charles Bray, a Coventry industrialist, and Charles Hennell who encouraged her to think for herself. After travelling abroad with the Brays she settled in London, becoming the assistant editor of the radical Westminster Review. She went to live with the journalist and critic George Henry Lewis in 1853, this arrangement being much frowned upon in these times. Two years after his death, she married a much younger man, John Walter Cross, but she died a few months later.
Primarily a writer of popular novels (Adam Bede, The Mill on the Floss, Silas Marner, Middlemarch, Daniel Deronda), George Eliot wrote a considerable amount of poetry including The Spanish Gypsy, and the touching Brother and Sister. Both her prose and her poetry exhibit a freshness, honesty, and sensitivity and a great love of nature.
Works include
Day is Dying
Brother and Sister
Count That Day Lost
Books you might enjoy