John Davidson
1857-1909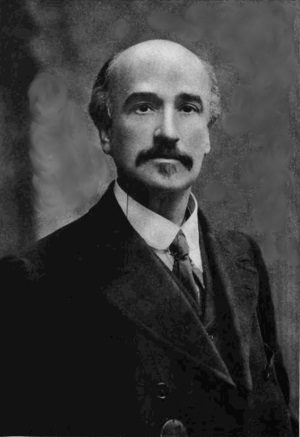 John Davidson was born in Barrhead, East Renfrewshire, the son of an Evangelical minister. His family moved to Greenock, near Glasgow in 1862 and he was educated at Highlanders' Academy, later working there as a pupil teacher. He spent a year at Edinburgh University in 1876 and the next twelve years teaching at a number of Scottish schools. He got married in 1885 to Margaret McArthur and they had two sons.
He had always had an ambition to become a writer and in 1889 he moved with his family to London where he joined the Rhymers' Club. His first literary efforts were plays, the best of which was Scaramouch in Naxos but his plays were not a commercial success and he supplemented his income by writing articles for various newspapers and periodicals. He then turned to writing novels, the most popular being Perfervid: The Career of Ninian Jamieson, illustrated by Harry Furniss.
Davidson's true medium was verse and in 1891 he published In a Music Hall and Other Poems. It was his publication of Fleet Street Eclogues and Ballads and Songs in 1893 and 1894, however, which established his reputation. Further volumes of poetry followed and in 1907 he wrote several Testaments: dramatic, philosophical monologues in blank verse incorporating his scientific knowledge. He also translated the work of several French writers including Montesquieu's Lettres Persanes and Hugo's Ruy Blas.
Although he was awarded a Civil List pension of £100 per annum, in spite of his prolific output he struggled to make a living and after being diagnosed with cancer the combined effects of poverty and ill-health led to depression. In 1908 he took himself off to Penzance where the following year he disappeared, his body being found six months later in the sea.
The majority of his poetry was concerned with the lot of the common man and poems such as Thirty Bob a Week and A Northern Suburb chronicle working class life and his outrage at poverty. It was said of him that he wrote too much and is remembered for too little but there is no doubt he was a fine wordsmith with a great lyrical gift who deserves to be better read.
Works include
Books you might enjoy
John Davidson (Scottish Writers Series)
M. O'Connor